There are quite a number of residential property types in Malaysia to date, with the common ones being bungalows, semi-Ds, terraces, apartments, condominiums and so on.
These residential properties have existed for over a decade and are protected by the Housing Development Act (HDA), which aims to safeguard the interests of property buyers, including:
Providing assistance during disputes between developers and buyers
Protecting the buyer's interests when a development is abandoned
Setting rules and regulations of when a developer can start charging the buyers
However, in recent years, many new types have mushroomed which then creates more confusion for homebuyers, especially first-timers.
Among the newly introduced and highly confusing types of properties in existence include Loft, SoHo, SoVo, SoFo and the list goes on.
This comprehensive list covers the most common ones you can find in Malaysia; hopefully, it helps you when it comes time to make a buying decision!
1) Mansion vs Bungalow vs Zero Lot Bungalow vs Cluster vs Villa
These landed properties are the epitome of luxury in Malaysia.
Many of us average Malaysians however, will often wonder how a mansion is different from a bungalow? And what exactly is a cluster house?
Most of these properties are almost the same with several minor differences.
Mansion refers to abodes that are bigger than bungalows with a huge parcel of land
Bungalows are similar to mansions, but slightly smaller in terms of square feet and land. The house is surrounded by gardens.
Zero-lot bungalows are similar to bungalows but with a very small piece of land. Usually, the houses are located at the corner to make full use of the land.
Cluster homes come with a huge build-up, but are developed in clusters, with facilities provided that you'd usually find in a condo.
Villas are similar to cluster homes but with a fancier name. There's no proper guideline on how a villa should be developed.
These types of residences carry the residential title and will be protected by the HDA.
A semi-detached and a detached house are two property types which commonly get used interchangeably. So, what are the differences between detached and semi-d houses? Both these houses typically come with a residential title, but:
A semi-detached house shares one common wall with its neighbouring home, whereby its layout will be a mirror image of the other.
A detached house stands alone and doesn't adjoin with its neighbouring home. Such homes are protected by HDA.
Many people always assume that a terrace house, link house and super link house are the same type of property, and they are not wrong either.
The terrace, link, and super link house are generally the same, with only one minor difference – their sizes.
So trying to compare them from a price point is unfair as the price will be entirely dependent on the built-up and land area of the terrace, link house and super link.
Terrace homes are the smallest among them all, typically 22 ft x 75 ft
A link house is typically larger than the terrace house type
Superlink houses are the largest of the variety, ranging up to 34 ft x 80 ft
The logic behind this is to differentiate the houses according to their sizes, as it will be easier to convince the customer of a higher price tag. These types of properties offer a residential title and are protected by HDA.
A townhouse is generally two homes in one, whereby two units will be stacked on top of each other or attached side by side. But overall, it just looks like a single home from the outside.
This type of home, like the others, has a residential title and is protected by the HDA.
Flats and apartments are the basic high-rise developments in Malaysia which have existed for ages. Both types offer affordable low-end units.
A flat is a non-gated and guarded five-storey walk-up residence, with outdoor parking and no other facilities
Meanwhile, an apartment is gated and guarded and is over five storeys tall. It comes with lifts and is attached to an outdoor parking space. They have basic facilities such as playgrounds and landscaping.
Both types come with a residential title (strata) and are protected by HDA.
6) Condominium vs Serviced Apartment vs Serviced Residence vs Serviced Suites
These are the high-end high rises in Malaysia, in which condominiums are amongst the most highly preferred property.
So how are Condominiums, Serviced Apartments, Serviced Residences and Serviced Suites different?
Condominiums offer a full range of facilities, high security and indoor or basement parking bays. Among the criteria to be fulfilled before a development can be considered as a condominium is that it has to be developed in a land area of 4,000 square metres and above.
Serviced Apartments, Serviced Residences and Serviced Suites come with housekeeping facilities, room service, bellboy services and so forth just like a hotel.
Condominiums usually come with a residential title and are protected by HDA. You might also want to read more about Dual Key Condos.
Meanwhile, the rest can come with either residential or commercial titles; although they typically carry a commercial title.
If it comes with a commercial title, the property will not be protected by the HDA.
Penthouses, lofts and duplexes define extravagance in a high rise, whereby it is more like a semi-detached or double-storey house in the sky.
A Penthouse refers to the topmost unit of a residential high rise and typically takes up an entire floor – or at least half the floor.
Although in previous developments penthouses were single-storey, the trends have changed and now most Penthouses are double-storey homes.
There is usually only a single Penthouse within a single block of high-rise, making it the most expensive unit.
Lofts and Duplexes are similar types with different names. These are typically double-storey units within a residential high-rise.
All these properties can carry either a commercial or residential title, depending on the Land Title.
SoHo, SoFo, SoVo and VOS are some of the newer types of properties in the market.
They were introduced in the market when the developers were bounded by the Housing Development Act (HDA) to build only 70 units of homes in a 1-acre land. But with a commercial title, a developer can build 100 units within the same 1-acre land. Hence, such developments were created due to the extra profit it offers.
The Small Office Home Office (SoHo) units can be used as either offices or homes.
Small Office Flexible Office (SoFo) units are to be used as offices. They are coined flexible offices because a selected number of their units have breaking points in the walls to enlarge the space.
Small Office Versatile Office (SoVo) and Versatile Office Suites (Vos) are no different, besides their name. They can only be used for commercial purposes.
SoHo units come with a residential title and are protected by the HDA, while the rest comes under the commercial title with no HDA protection.
9) Shop House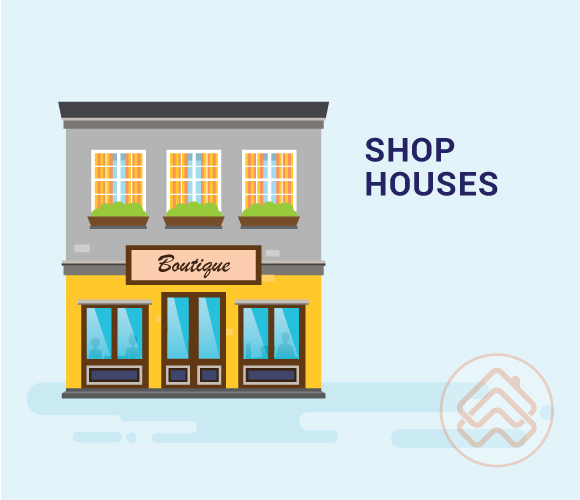 Shop houses are homes that are located above shops. Even though the shops carry a commercial title, there are possibilities for the houses above them to carry a residential title.
However, this will depend entirely on the developer, on whether they are able to apply for a Residential Title for the homes above the shops. If the developer does not manage to change the Land Title to a Residential title for the homes, the homes will not enjoy HDA protection.
Retail units and shop lots are quite similar but have a distinctive difference.
Retail lots are located within shopping malls
Shop lots are located in a commercial area
Both these types carried a commercial title and are not protected by HDA.
11) Integrated/ Mixed-Use Development or Mixed-Use Township
Integrated or mixed-use developments comprise many components such as residential, commercial, entertainment and so on.
Some of the developments also include shopping malls, offices and theme parks among others. Examples of mixed-use developments include Tropicana Metropark and Eco Ardence.
The residential components carry either a commercial or residential title, depending on whether the developer manages to apply for a residential title for the residential components. In the event that the application is unsuccessful, the residential components will carry a commercial title and will not be protected by the HDA.
Disclaimer: The information is provided for general information only. PropertyGuru International (Malaysia) Sdn Bhd makes no representations or warranties in relation to the information, including but not limited to any representation or warranty as to the fitness for any particular purpose of the information to the fullest extent permitted by law. While every effort has been made to ensure that the information provided in this article is accurate, reliable, and complete as of the time of writing, the information provided in this article should not be relied upon to make any financial, investment, real estate or legal decisions. Additionally, the information should not substitute advice from a trained professional who can take into account your personal facts and circumstances, and we accept no liability if you use the information to form decisions.
Credits
By by by Tynn Tan @ propertyguru.com.my – July 01, 2023
Article from propertyguru.com.my / Article dated 01 July 2023

We would like to give credit and express our gratitude to the original authors of this article – The 11 Different Types Of Properties And Houses In Malaysia, which we have included on our website. The content of this article belongs solely to the talented writers at propertyguru.com.my, and we are utilizing it for display purposes without any form of plagiarism or modification apart from the thumbnail image which we added.
We value and respect the hard work, dedication, and research that went into creating this article. By featuring it on our website, we aim to provide our readers with valuable information and insights from reputable sources.
We encourage our visitors to visit propertyguru.com.my to explore more of their outstanding articles and support their exceptional journalistic endeavors.
Thank you, propertyguru.com.my, for your contribution to informing and enlightening readers around the world.
Link to original article:
https://www.propertyguru.com.my/property-guides/different-types-of-properties-and-houses-in-malaysia-9448